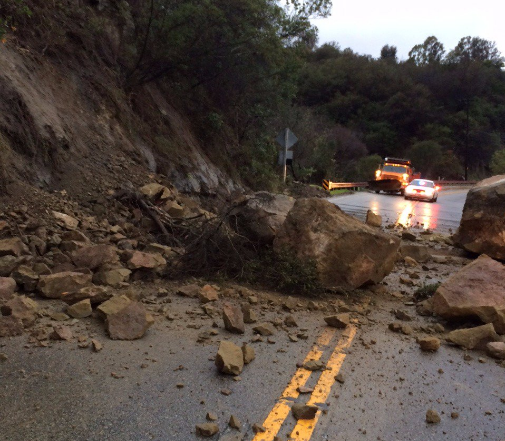 Topanga Canyon Boulevard SR-27 is closed from Jalan, Jalan — the northern boundary of the Scenic Highway — to Pacific Coast Highway due to rockfall and mudslide until further notice. Michael Dipsia of Caltrans reports that the road was closed at

2:30AM

when heavy rains at Post Mile 1.5 cleared from the burned hillside more ash, debris, mud and rocks into the gully — overflowing the barrier, washing over the shoulder and flooding the roadway. One vehicle was stuck in the mud and CHP and Caltrans Maintenance Crews are trying to remove it. Caltrans emergency contractor "Union Engineering" is working with Caltrans to clear the highway and repair the washout shoulder.
Joseph Rosendo, Chamber Community Liaison, will be surveying the area with Michael later this morning and will pass on further information as it is known.

Stay dry and be safe!
UPDATE MARCH 15, 10:00 AM
Michael Dipsia of Caltrans estimates that the road will be closed at least until Monday, but most likely longer — closer to 7 days.