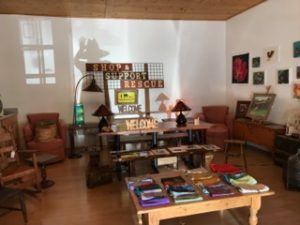 Topanga Animal Rescue is holding a fund raiser in the form of a pop up store next to the Topanga Table. Lots of great antique furniture, lamps, art work, scarves and do dads. Everything for sale has been donated from folks in the community. All the proceeds go to help the animals. We are a completely volunteer non profit organization—helping the wildlife and domestic animals of Topanga for 26 years. Drop by. Make an offer on an antique chair, table or desk, pick up a print by a local artist—go home with something really nice and help the animals at the same time. Currently, we are working with the County on the Homeless Connect project—working to bring proper health care to the animals of the homeless, and thus help both the homeless people and the animals that are so important to their well being. We are open 9-4, seven days a week for the next 4 weeks. New items are available every day as they come in so feel free to visit as much as you like. We look forward to seeing you!
Pop up store located at 1861 N TOPANGA CANYON BLVD, TOPANGA, CA, 90290
9am-4pm Seven days a week for the next 4 weeks!!!