I think the parade and Topanga Days, in spite of the weather, was a great success. A gigantic thank you to Curtis Caddell for supplying our "float" and to everyone who arrived bright and early Monday morning to help decorate it. Curtis rented the truck and bought the hay bales, at his expense, so Kriss Perras and Tam Taylor, our Chamber Citizen of the Year, could have a throne to sit on in the back of the truck while holding up our signs and waving regally.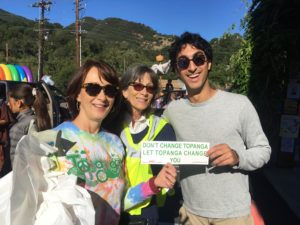 Thanks to all of you who walked with the Chamber and Trash Warriors and carried the Chamber banner (Julie and Will Alford) and Scenic Highway banner (Brad Goode, Ken Mazur, Chryssa Lightheart, Susan Clark and other periodic relievers). It was touch and go for a while, but we got all the paraders we needed. Thanks to Mo Alsi for leaving his family celebration and coming to Topanga and joining us in the middle of his Ramadan fast. The Chamber Pot was active giving out candy without throwing any. Thanks to Chryssa for going back through the parade route and picking up any candy that didn't go home with the recipients.
Thanks to the Trash Warriors Beth and Roxanne Berger and Mo for leading our contingent down Topanga Canyon Boulevard. Thanks to Roger for printing out the TASC bumper stickers and passing them out before and during the parade. They were a gigantic hit! Let's hope the message sunk in, especially with Nate Daneshgar, the new owner/manager of Pine Tree Circle (See photo to the right). Thanks to Dianne Portia for riding her bike with us and playing town crier with the slogan's message.
As always the parade — prep, lineup and performance — was a blast! I loved it and hope all of you did too and you and more will join me again next year. I'm thinking seriously about taking Curtis up on his idea of creating a Trash Warrior routine to perform while we walk. He's honing his choreographic skills in order to direct us in our endeavor.
We finally finished up the donuts and most of the coffee later in the Chamber booth where we gave out Topanga information, maps and guides and sold our Chamber tie-dyed and other tee-shirts and Scenic Highway tiles handcrafted exclusively for us by Matt Doolin of TopangaArtTile.com.
The sun and the music on Monday was bright and rockin'. I hope one and all had a wonderful Topanga Days!
Joseph Rosendo
Community Liaison
Topanga's Chamber of Commerce
Box 185
Topanga, CA 90290
[email protected]
TopangaChamber.org