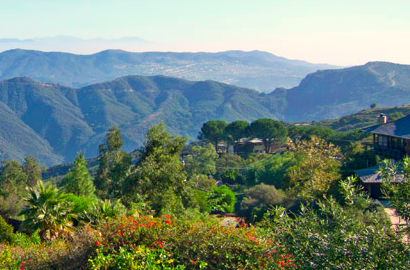 Destination Topanga:
27 Things To Do On Scenic Route 27
Plan a hike to Eagle Rock, Mesa Overlook, or Backbone Trail for fabulous ocean views and great outdoor exercise, followed by something to eat at Café 27.
Go on a group mountain bike ride with the folks at Topanga Creek Outpost.
Experience Topanga's healing tradition by booking with one of the many resident healers and wellness practitioners for massage therapy, acupuncture, flotation therapy, cranio-sacral therapy, or aromatherapy.
Plan a weekend getaway of hiking, dining, theater and wellness at a local B&B, such as the Mountain Mermaid.
Have a glass of wine at Rosenthal Wine Tasting on PCH and then take in the sunset on Topanga Beach.
Walk a trail, listen to the birds, breathe in the scents and enjoy the wildlife on a docent walk in Topanga State Park surrounded by magnificent pines, eucalyptus, oaks and sage.
Visit the Canyon Gourmet to pick up picnic delicacies. Watch hawks soar, listen to the calls of the coyotes, look at wildflowers. Take pictures, draw, sketch, hike.
Visit Topanga Canyon Gallery at Pine Tree Circle, with monthly art installations, then return in June for the iconic Artists' Studio Tour visiting the artists in their home studios.
Watch the passing parade and get to know our friendly Topangans over coffee and a french pastry at Café Mimosa.
Give the kids a time to remember in one of the classes at Cali-Camp or Theatricum Botanticum.
Enjoy bistro dining at Canyon Bistro with No-Corkage Fee Wednesdays and Jazz Friday nights.
Enjoy the Topanga Mercantile event on the First Saturday of the month.
Stretch out and cool down at a Yoga Desa class and tap into crystal power at Topanga Rocks.
Get married or renew your vows at The 1909, Inn of the Seventh Ray, the Mountain Mermaid or Rosewood.
Visit Topanga State Park, the largest wild land within the limits of any metropolis in the country.
Enjoy dinner at Inn of the Seventh Ray, with organically grown and locally sourced foods served overlooking the creek.
Celebrate at one of our many festivals, such as Topanga Days, The Reggae Festival or Topanga Film Festival.
Attend a potluck offered quarterly by the Topanga Historical Society and get up close with the Topanga of former times.
Become a Friend of the Topanga Symphony and attend one of their regular programs of free concerts, four times a year since 1982. Check their calendar for their performances.
Have you always wanted to ride a horse? Topanga has it all, from world class hunter jumpers and dressage trainers, lessons for kids and adults, polo, casual trail rides, natural horsemanship trainers, and everything in between. The hills of Topanga are classic horse country.
De-stress, revitalize and reconnect body-mind-heart-soul by registering for a Porchia's WISH Life in Balance Holistic Wellness Retreat in Topanga.
Try some exploratory spiritual shopping at Jalan Jalan Imports, the Buhtan Shop or the Spiral Staircase for ways to create your own home Zen sanctuary.
Take a Sunday to connect with local realtors. Visit all the Open Houses of homes for sale. Topanga residences are unique and who knows? You may find your dream home. Drive to the tops of the hill on every street off Topanga Canyon Blvd. and enjoy the astounding views.
Take your Dog out for some time outdoors. The park near the top of Tuna Canyon allows dogs on leashes.
Take an evening drive with your convertible top down and enjoy the Canyon breeze in your hair.
Head for a wonderful day at the Beach, just 4 miles south of the town center.
Participate in this amazing community by Volunteering at any one of the myriad non-profits in Topanga.